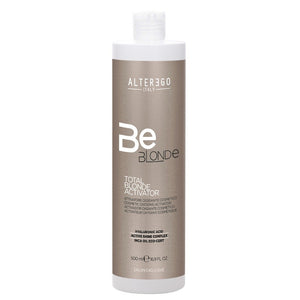 * Colorado Professional Only *
This product can be sold to Colorado, Wyoming and Montana Halicensed beauty professionals only.
Non-professional orders and orders outside of Colorado cannot be fulfilled
New to Glam Concepts?  Professional color charts are available.  Please register for a Colorado professional account with us by emailing us at: sales@glamconcepts.com 
Made in Italy.
ALTER EGO ITALY
* This product is Professional Only *
Be Blonde Total Blonde Activator
(Now in the BlondEgo Lineup)
Special cream formula, boosted with cosmetic active ingredients, for full-head lightening to guarantee maximum scalp comfort and full respect of the hair structure.
Formulated with paraben-free Hyaluronic Acid for its filling action, eco-certified Inca oil and Active Shine Complex for their excellent protecting and illuminating properties. Ideal for full-head lightening mix Total Blonde Activator with Pure Light Cream to guarantee maximum safety and protection.
Features:
Percentage approximately 6 % (20 Vol)
Easy to mix formula
Soft rich texture
Guarantees maximum cosmetic action
Maximum scalp comfort and full respect of the hair structure
Promotes easy and uniform product application
Alter Ego Italy Be Blonde is the first ever professional range of color and lightening products that have been especially formulated to meet all the needs of naturally blonde, bleached or lightened hair structures. The active ingredients in the Be Blonde range, selected for their restructuring and deep nourishing properties guarantee maximum brilliance.
Made in Italy.